Say tofu in a large group and watch the faces change. I feel like I always need to convince people that tofu can be really good. I understand that white block isn't the most appetizing, but I watch insta-stories throughout the day where my food blogger buddies apologize for the ugly raw chicken on the counter. Food isn't always pretty. It's our job to make it so. Enter Sesame Soy Tofu Bowls. Tell me these aren't quite pretty;)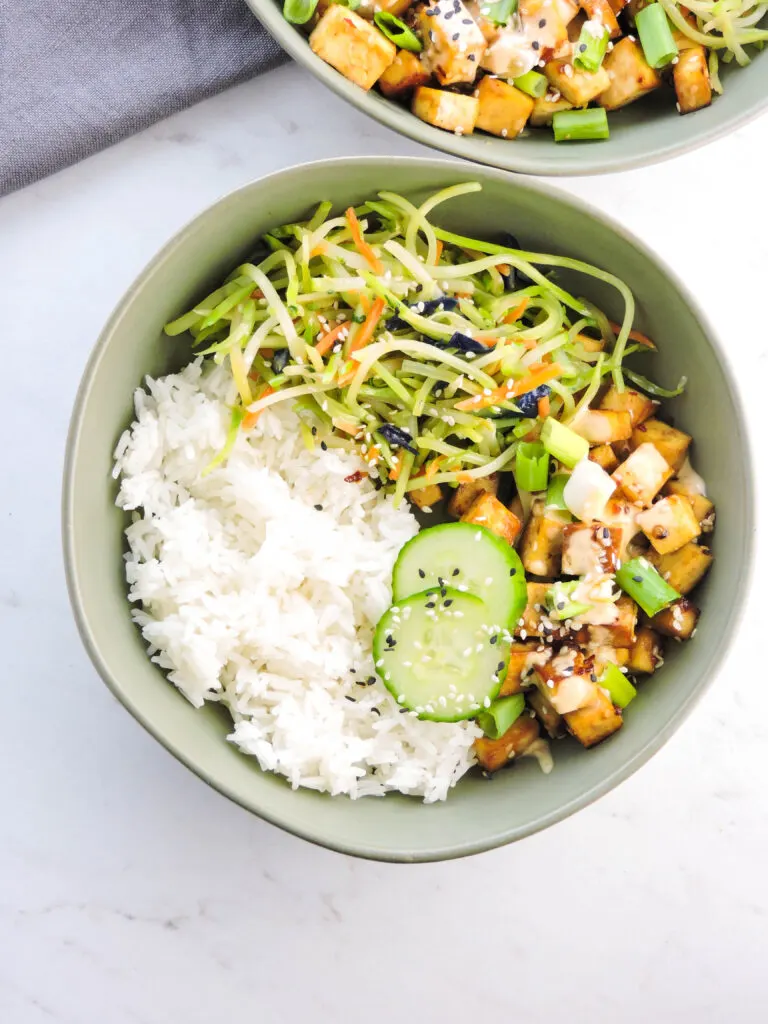 Colorful, flavorful, filling and protein packed without meat… these tofu bowls may make you a believer. I love these for meal prep, because baking the tofu makes it super easy to reheat. The broccoli slaw makes things easy peasy and it doesn't lose crunch. I have a Tofu Fried Rice on the blog that I go to over and over again, but lately tofu bowls are my jam.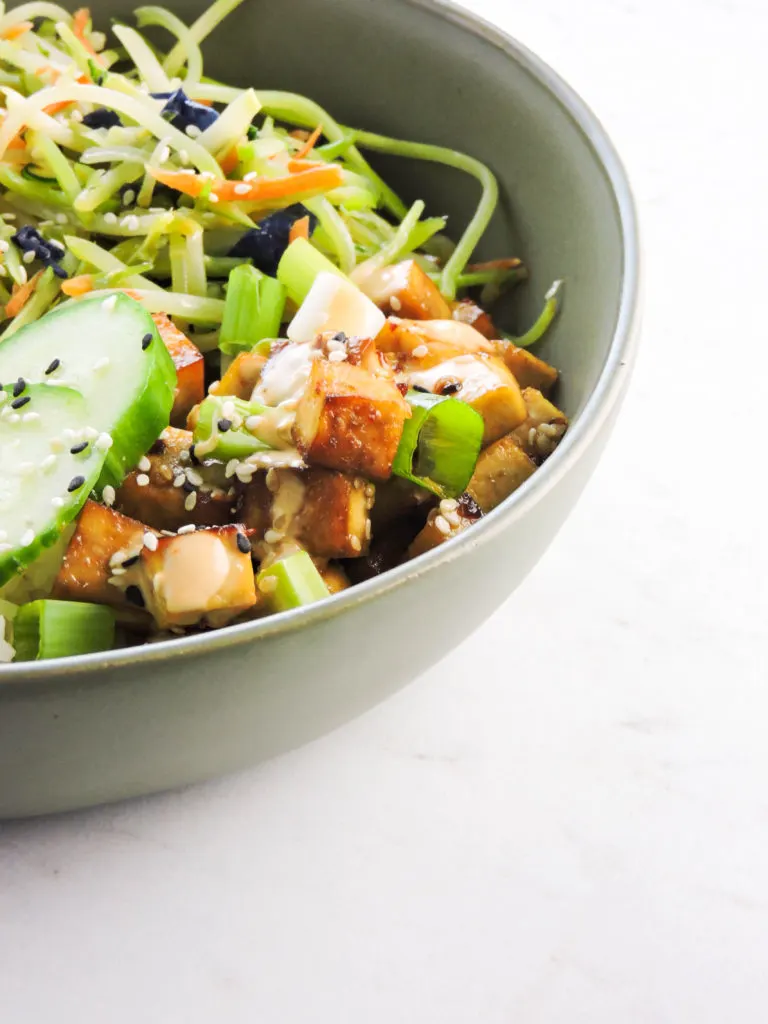 The Sesame Soy Marinade this is cooked in adds some sweet and just a touch of heat to the tofu. If you are just against this whole tofu thing, I'll just go ahead and say you can use chicken too. Same preparation instructions 🙂 Just make sure you don't over cook it. I REALLY WANT YOU TO TRY THE TOFU THOUGH! I always feel this need to offer an alternative when I post a tofu recipe. So there it is. Yes you can use chicken, but why would you when this tofu is delicious?!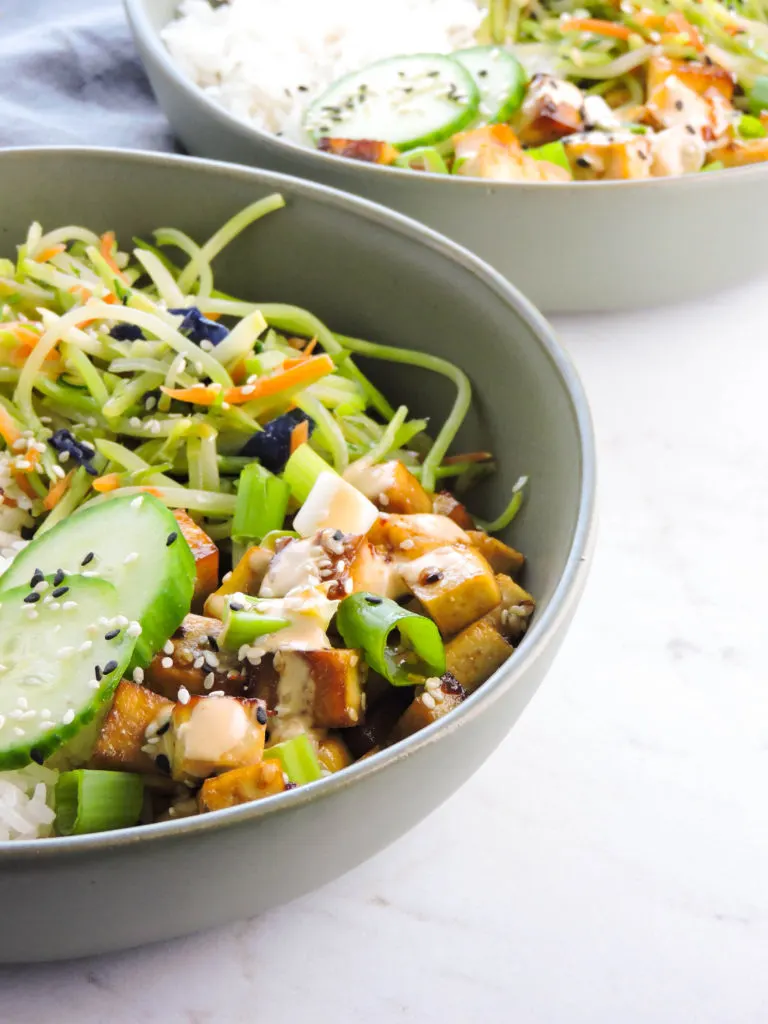 If you make this recipe- hopefully the tofu version- please tag me on Instagram @FreshFitKitchen. Your enjoyment of the recipes here keeps this little blog going. I love seeing and featuring your creations.
PIN IT!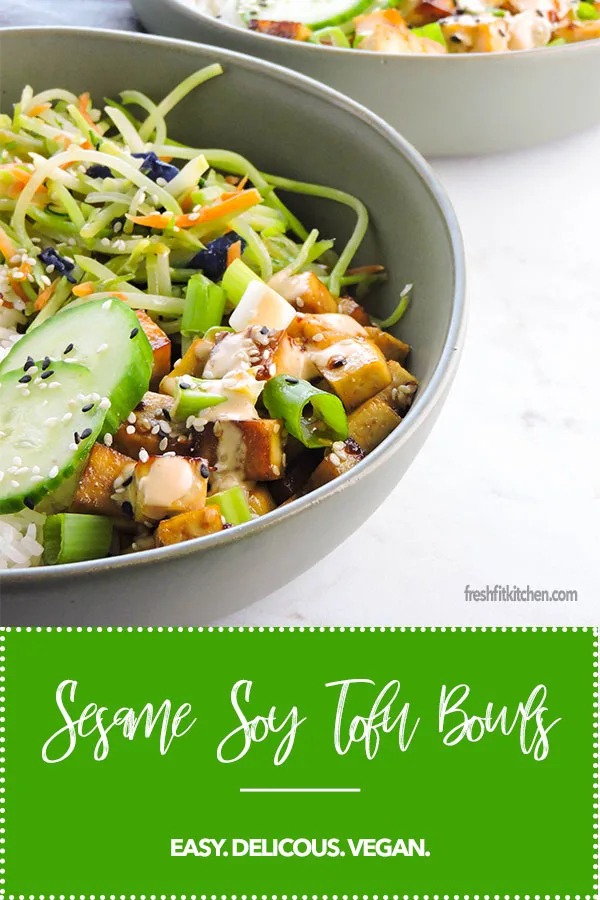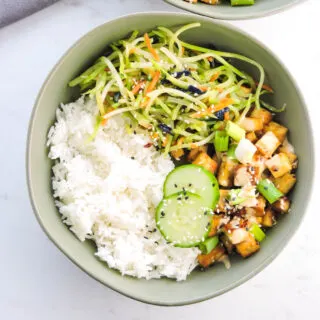 Sesame Soy Tofu Bowls
Sesame Soy Tofu Bowls are an easy, flavorful and nutritious meal. Completely plant based and full of flavor, these tofu bowls will make you love tofu and never miss the meat.
Ingredients
2

Packages

Super Firm Tofu

If you can purchase already pressed, it's easier. Otherwise put the tofu between paper towels and put a heavy skillet on top to press the liquid out for at least 15 minutes prior to preparing.

4

cups

Broccoli Slaw

One Large Package will usually do.

4

cups

Jasmine Rice

Cooked according to package instructions

1/4

cup

Soy Sauce

1

tbsp.

Chili Paste

3

tbsp.

honey

or Maple Syrup

1/2

tbsp.

Sesame oil

1/2

tbsp.

Sesame Seeds

1/2

cup

Vegan Mayonnaise

I like Just Mayo brand which is dairy and egg free. You can also use whatever mayo you like.

1

tbsp.

Sriracha

more or less to your tastes

1-2

tbsp.

water

to thin the Sriracha Mayo Sauce

Sesame Seeds

For Garnish

Scallions

For Garnish

Sliced Cucumbers

For Garnish
Instructions
To prepare the tofu: Preheat the oven to 400 degrees. Drizzle a large sheet tray with a good coating of Avocado or Sunflower oil to prevent sticking. Allow the oiled sheet to preheat in the oven while it comes up to temperature.

Slice the tofu into 1 inch cubes. Mix together the soy sauce, chili paste, sesame oil, and sesame seeds. When the oven is preheated, remove the tray and add the tofu in a single layer.

Drizzle half the marinade over the tofu and toss it again. Make sure it's in a single layer. You can always use two sheets if you don't have one big enough. Bake for 15 minutes. Flip and bake another 15 minutes.

Remove the sheet pan from the oven and drizzle over the rest of the sauce.

For the Rice: I like to purchase regular Jasmine rice and cook it in the Instant Pot. Spray the instant pot to prevent sticking. Add a 1:1 ratio of rice to water to the pot. Close the lid and cook on High Pressure for 1 minute. Allow it to natural release for 10 minutes. Fluff the rice and serve. You can also purchase ready Jasmine rice and just microwave it. Do what what works for you here.

Preparing the Broccoli Slaw: Drizzle a pan with some oil. Add in the Broccoli Slaw once hot and stir fry for 3-4 minutes. Add a drizzle of soy sauce at the end for flavor.

To Serve: Mix together the mayo and sriracha. If you are sensitive to heat, perhaps add just 1/2 tbsp. of sriracha. Thin the sauce with water so it's pourable. You want to be able to drizzle this on your bowl.

Add some rice , tofu and the broccoli slaw to your bowl. Drizzle with the Sriracha sauce and garnish with thinly slice cucumbers, sesame seeds, and scallions. ENJOY.