Oh Sweet Summer. If ever there is an easier time to eat healthfully, it's now. The produce is in full bloom and everything tastes a little bit better. Gone are the heavier soups and stews of winter time. Now it's time for a grilled piece of chicken or salmon and this delicious Spinach Salad with Strawberries and Goat Cheese. Because there is so much flavor from the strawberries and goat cheese, a simple dressing of lemon juice and olive oil compliments the flavors perfectly. It's clean and refreshing. It's really everything summer should be.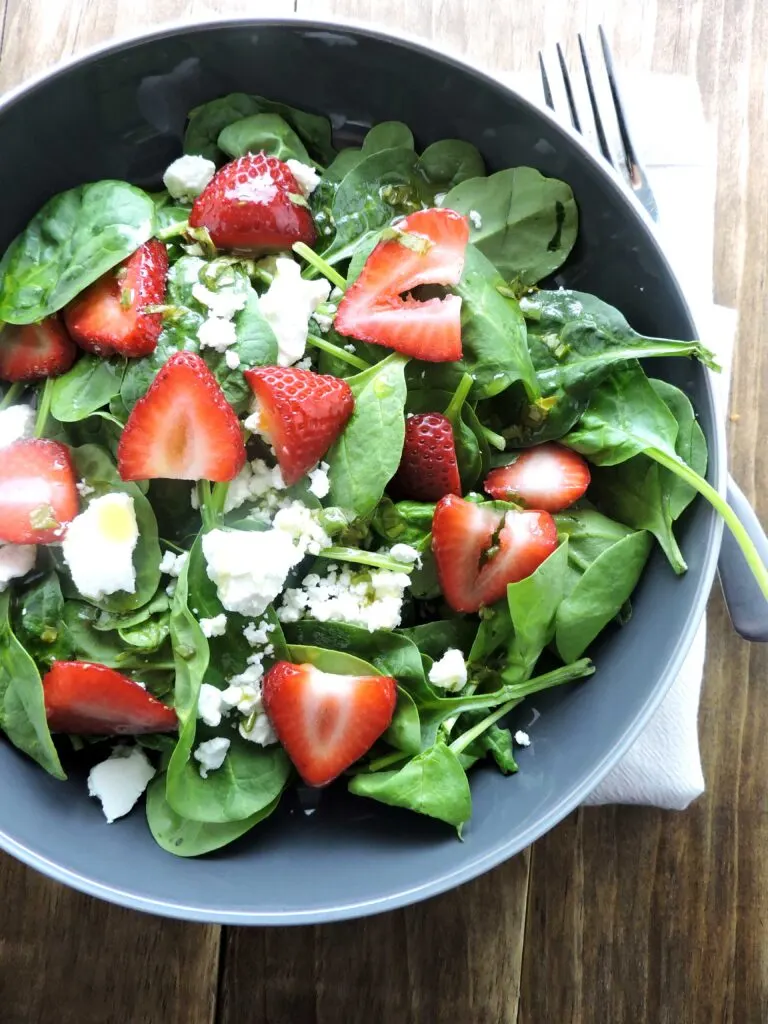 If you have them on hand, I recommend adding some pecans or almonds to give a little extra crunch. After all salads are all about textures and flavors that compliment each other. Goat cheese has that lovely tang so it really bumps up the flavor profile of the mild spinach and the sweet strawberries. While goat cheese is a rich ingredient, it's also one of those where you don't have to use a bunch of it to get great flavor. I'll confess that I love it and can be a little heavy handed. I am so glad my local Costco sells the package that includes two large pieces. It keeps well in the fridge and I find all kinds of ways to make good use of it.
Before we get to the Spinach Salad with Strawberries and Goat Cheese deliciousness, you should know that it would pair perfectly with my 7 Minute Chicken Tenders .
Save
Save
Save
Save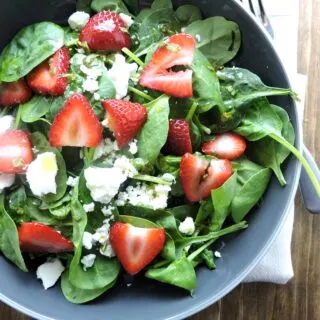 Spinach Salad with Strawberries and Goat Cheese
Ingredients
12

oz.

Baby Spinach

4

oz.

Goat Cheese, crumbled

1/2

lb.

Strawberries, sliced

Juice of 1 lemon

1/3

cup

olive oil

salt and pepper to taste
Instructions
Toss the Strawberries and spinach into a bowl.

Mix the olive oil, lemon juice, salt and pepper in a small bowl. Set aside.

Drizzle dressing onto salad and toss. Crumble goat cheese and serve.