Happy 2017! Welcome to the new Fresh Fit Meal Plan Guide 2017 Week 1. Don't you love a clean slate? With the holidays falling on a Sunday, it's nice to have that one extra day to prep and goal set. Every week, I'll send out a snapshot of how I am planning my week. I'll link you to the recipes I am including so you can be inspired for your weekly meal plan. I try to keep meal planning simple. I make enough dinner to provide lunches for the next day. I usually decide on something to have for breakfast for the week so I don't need to be creative everyday. Dinner is the only meal that changes every single day.
It's really easy, so are you ready for Fresh Fit Meal Plan Guide 2017 Week 1? Let's get started!
I purchased this planner at Target. It's by Sugar Paper and I really like how there is not only a month view, but also a weekly view. This allows me to plan my meals for the week and have a snap shot right in front of me. The right side of the weekly plan has a place for notes and to-do's. This is where I will plan my workouts each week and make notes about breakfast and snacks.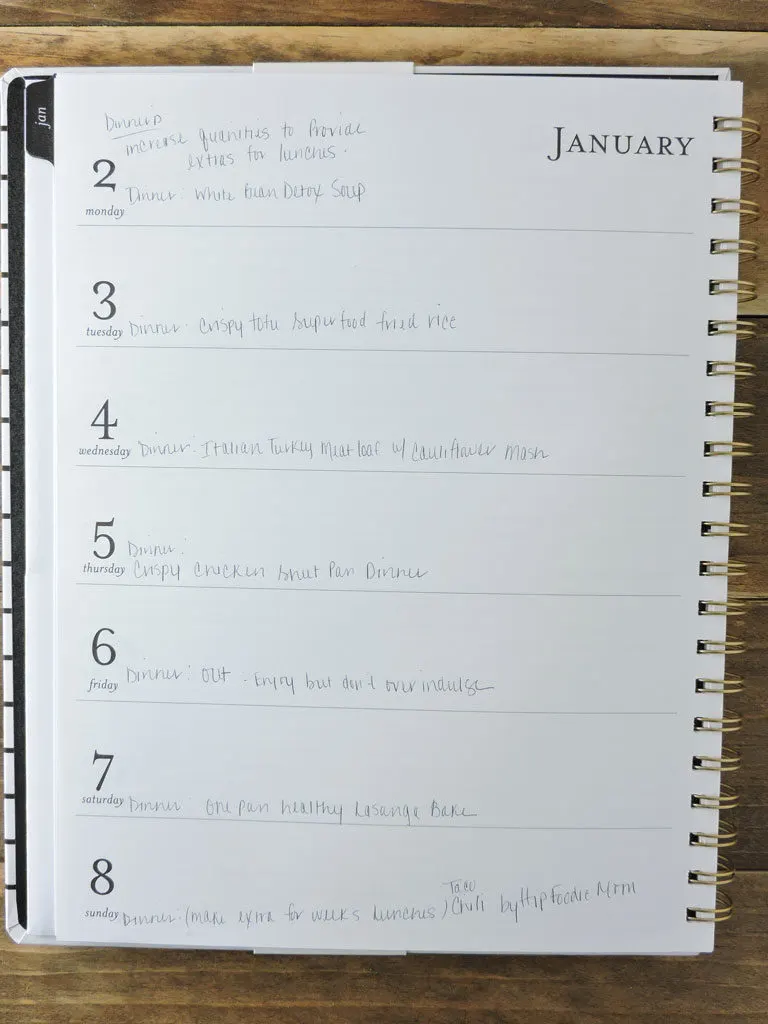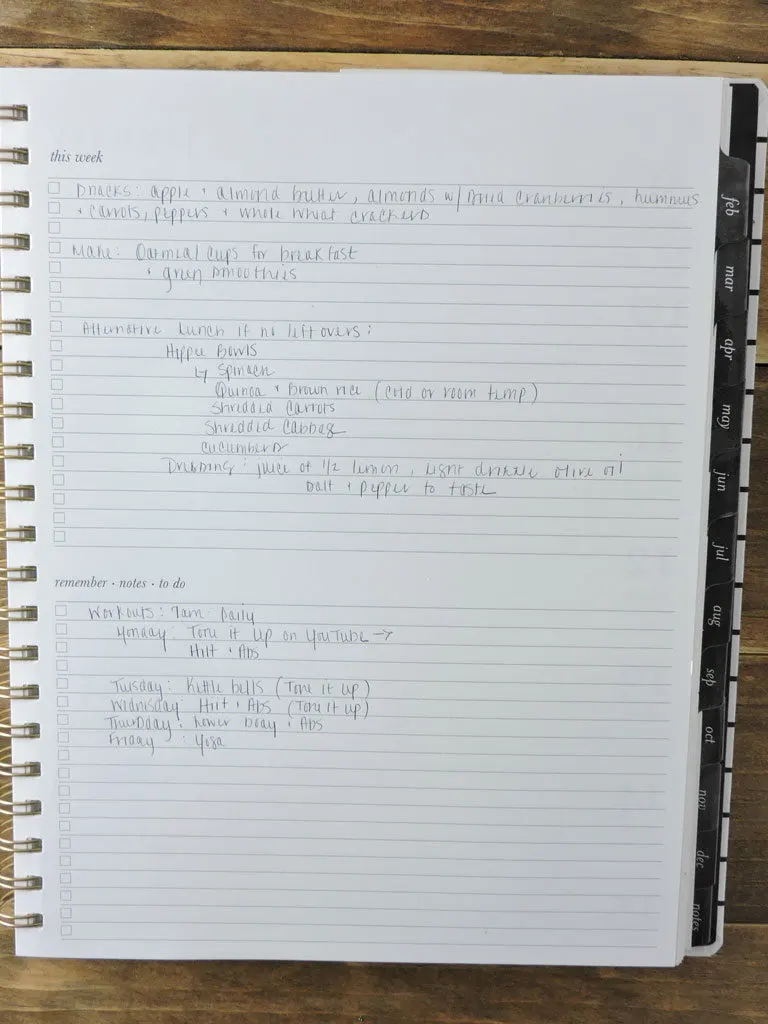 Monday – White Bean and Kale Detox Soup
Tuesday– Crispy Tofu Super Food Fried Rice
Wednesday– Italian Turkey Veggie Meatloaf
Thursday– Crispy Chicken Sheet Pan Dinner
Friday– Out- but be sensible 😉
Saturday– One Pan Healthy Lasagna Bake
Sunday– White Bean and Chicken Chili Soup– by HipFoodieMom Alice Choi
Notice that I plan to make enough leftovers each evening for lunches the next day. Should we get a little hungry though, I have a back up plan with a recipe for Hippy Salad Bowls. That recipe is loosely based on one from the Thug Kitchen Cookbook. It's nice because I will be prepping rice for the Crispy Tofu Fried Rice. I can use the left over grains from that recipe and toss in some veggies for an easy salad.
Efficient meal planning requires that you cook once and eat twice or more from those ingredients. I see posts all the time from other bloggers that show all these containers perfectly lined up (often too many for one week if you ask me) and while that's nice for some, this implies that someone actually has the 4 hours it takes to make that happen. I know you're like me, and you probably don't. My meal planning strategy is designed around cooking once and eating twice. I have to make dinner every night. So , why not make enough for lunch the next day? Then, I don't have to think about lunch recipes as a separate part of the plan. The added bonus is, I have to cook dinner anyway so I am not taking more time out of my week than I already would.
Sundays are my biggest meal prep days. I try to plan a meal on Sunday that starts me off with lunches during the week. In the winter time, the answer is usually a soup or chili, but it could be anything. Make that big Sunday dinner and then get excited knowing no matter how crappy Monday is, you've got a delicious lunch to take you back to the weekend.
Snacks- I like snacks, and I don't think you should banish snacking. I always plan a few snacks for the week. Around 2PM I start to want something crunchy, so I usually make my snacks things like almonds with a little dried fruit (make sure there is not sugar added), hummus and veggies, or an apple. Just plan the snack. This way you don't find yourself at the vending machine.
Working out
I really focus on the food around here, but I thought it might help you to see my workout strategy. I am an early riser. I know if I don't workout first thing, I probably won't. I plan a nice 25-30 minutes of intense working out for each day of the week. If Saturday comes and I want to sleep in. I do. After all I worked out all week. Plan those little rewards for yourself, and you won't feel tied down by your routine. Right now I am loving all of the workouts by Tone it up. Check these girls out on YouTube. Their workouts are fast , effective and fun. Depending on what I need to work on that day, I'll plan to do a few of their workouts and get in a half hour of exercise. I promise myself a half hour. A half hour is perfect some days and others I'll add on another 10-15 minutes. Plan what you will do bear minimum and then surprise yourself on those days you're feeling energized.
So, there you have it, the road map and the plan for the Fresh Fit Meal Plan Guide 2017 Week 1. Let's be on this journey together every week and see what happens by year's end. Get ready to feel amazing.
Save
Save
Save
Save
Save
Save
Save
Save