Here we are with another taco Tuesday recipe. What can I say? I am on a kick and this One Pan Burrito Bowl Bake recipe is so good that I don't even care that I am bombarding you with taco flavored goodness. Just in case you are as taco, burrito or enchilada obsessed as I am check out my other favorites like Chili Stuffed Poblano Peppers, Roasted Chili Taco Casserole, Layered Roasted Vegetable Enchiladas, or Burrito Power Bowls.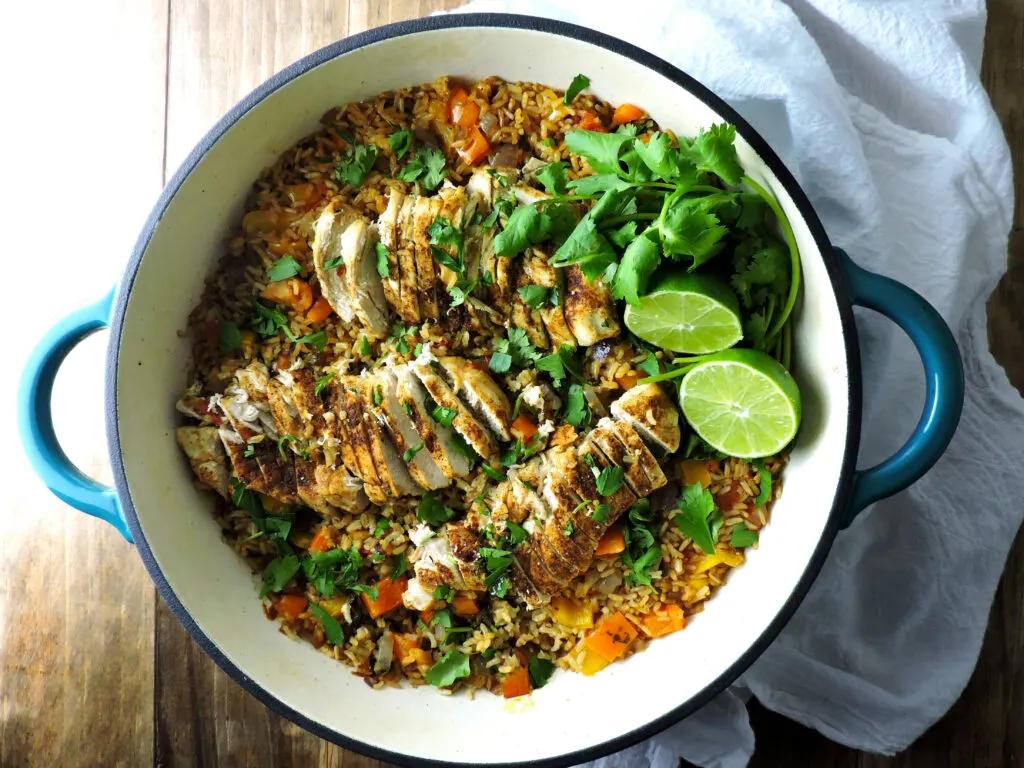 Judging from this list you should probably find another blog to follow if you don't like all that taco goodness. In all my love of these fresh mex flavors, I wanted to make the burrito bowl an easier feat. The fact is when you have to make everything separately and then assemble it, it's not the easiest dinner. This One Pan Burrito Bowl Bake has everything ready at once so all you need to do is pull the toppings from the fridge and enjoy. You can play around with the ingredients. Remember to check the notes section where I tell you how to make the recipe to your dietary needs.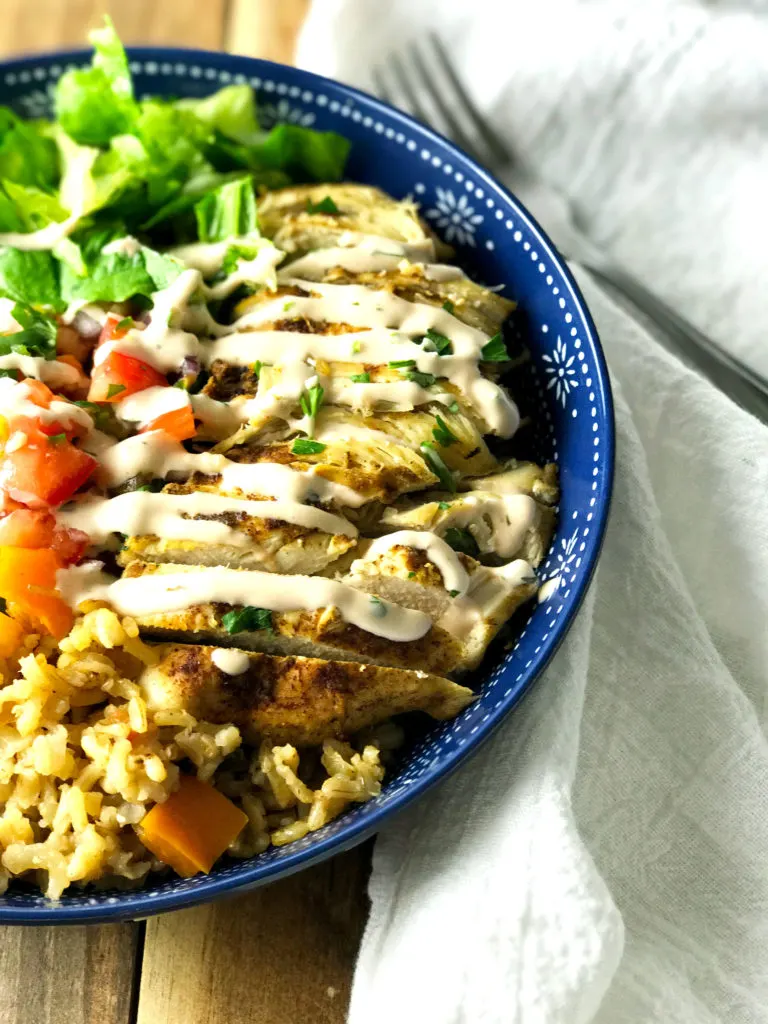 If you decide to make this please comment below and let me know how it went for you. I love hearing your feedback. You can also take a pic and tag me on Instagram @FreshFitKitchen.
Pin it for Later 😉

Save
Save
<
Save
Save
Save
Save
Save
Save
Save
Save
Save
Save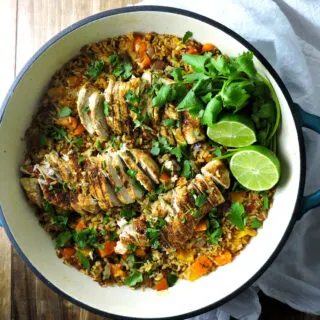 One Pan Burrito Bowl Bake
Ingredients
4

Chicken Breasts, 4 oz. each

2

Red or Yellow Peppers, chopped

1/2

large

Onion, diced

Paprika

cumin

chili powder

2

cups

Quick Cooking Brown Rice, such as Minute Rice

1-

10 oz. can

Rotel Tomatoes with Lime and Cilantro

*If you can't find Rotel add the juice of one lime and 2 tbsp. of cilantro to a regular can of diced tomatoes.

2

cups

vegetable broth

salt and pepper to taste
Instructions
Preheat oven to 300 degrees. Pound the chicken breasts to an even thickness. You just don't want one side much larger than the other. Sprinkle each side evenly with Paprika, Cumin, Chili Powder, Salt and Pepper. You just want an even coat. No measuring required.

For this recipe, you'll want to use a pan like a dutch oven that can go from stove to oven OR plan to transfer everything to a 9x13 dish covered tightly with foil.

Heat 2 tsp. oil in your pan of choice and allow it get pretty hot. I used avocado oil for this, but you can also use a light olive oil. Add the chicken. You should hear a nice sizzle . You just want to quickly brown each side of the chicken. Do not cook it the entire way through.

When the sides of the chicken are browned, remove it from the pan and set aside. Add in a little more oil (about 1 tsp.) and saute the peppers, onions, and the rice. The rice should be coated in the oil a bit and start to toast up. This will take about 3-4 minutes. At this point you can transfer the rice mix to the 9x13 if your pan can't go in the oven.

Add the broth and Rotel to the pan you'll be baking this in along with the rice mixture. Lay the chicken breasts on top. Cover with a lid or tightly with foil.

Bake at 300 degrees for 30-35 minutes or until the chicken is cooked through and the rice has absorbed the liquid. It's very important that you monitor this the first time you cook it. If you have thicker chicken breasts the recipe could take longer. I recommend about 1 inch on the thickness of the chicken breasts to be sure things will cook evenly together. Check it often since rice brands and ovens can vary. The lower cooking temperature on the oven is because the rice needs time to absorb the liquid and you don't want overcooked dry chicken. I do not recommend rushing this one.

Slice the chicken breasts and place on top prior to serving with your favorite taco toppings. Salsa, sour cream or Greek yogurt, cheese, lime and guacamole are some of my favorites.
Notes
Lower the Carbs: Cook the chicken and peppers on the stove top instead of as a bake. Serve over a bed of your favorite greens. Use lower carb toppings like cheese, fresh cilantro and lime.
Make it Vegetarian: Replace the chicken with black beans. Simply saute the peppers and rice then add 2 cans of drained and rinsed black beans with the Rotel. All the other cooking instructions can stay the same. If you're Vegan just don't use cheese.
Good News- this recipe is already Gluten Free 😉
** The nutrition facts shown are for the recipe as it is made here. The nutrition facts do not include toppings or alterations to the recipe.