While ceviche sounds super fancy, it's simply a way of cooking seafood with citrus juice and serving it salsa style. The reason this is quick shrimp ceviche is that we cut the part out where it has to marinate for several hours to essentially cook the shrimp. Quick Ceviche with cooked shrimp makes this recipe easy and less time intensive.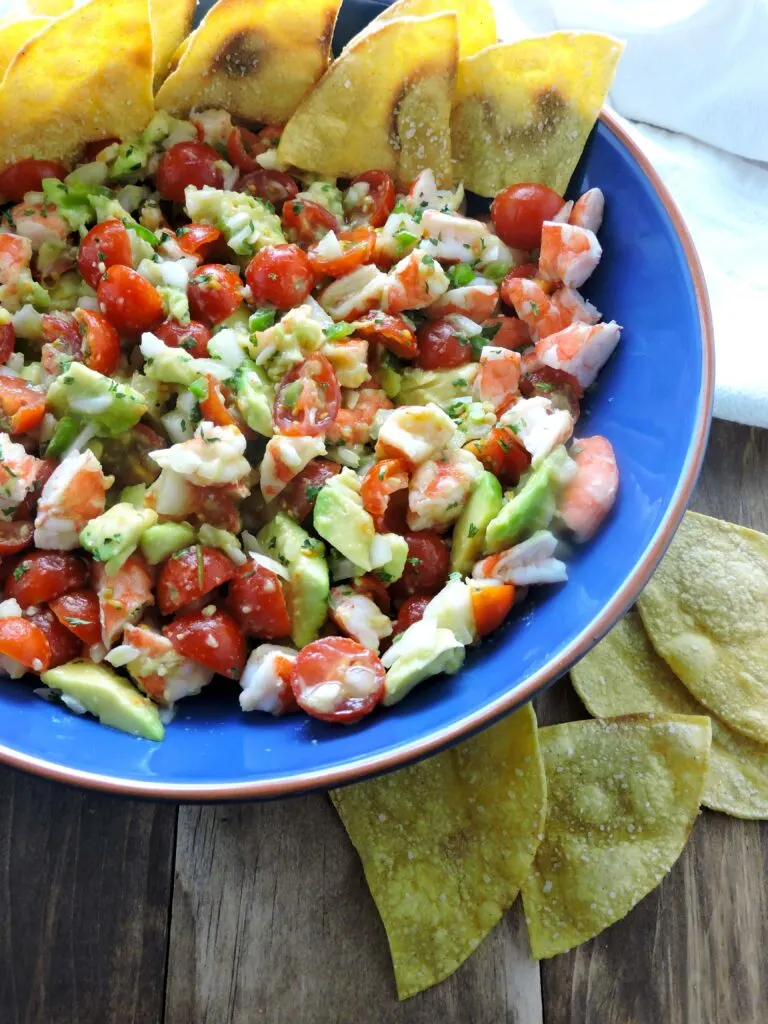 Quick Shrimp Ceviche- Do the shrimp need to be raw in Ceviche?
The answer to this is absolutely not! The reason this is "quick" shrimp ceviche is that it uses cooked shrimp. Traditional ceviche will use raw and the marinating in the acid from lime juice helps cook the shrimp.
With this easy shrimp ceviche recipe you get all the flavor of ceviche without the time investment. So, if you need an easy way to describe it just say basically pico de gallo with shrimp.
What Kind of Shrimp do I use for Ceviche?
I use a medium already cooked shrimp. I like to get these in the freezer section at the store or straight from the seafood counter. This is where you can use a smaller less expensive shrimp. It's just getting cut up and put into the bowl so no need for large impressive shrimp.
Can I use other seafood in ceviche besides shrimp?
While shrimp are pretty traditional, little bay scallops will work too! You could even do a combo. To use the scallops in this quick and easy shrimp ceviche, just steam them first.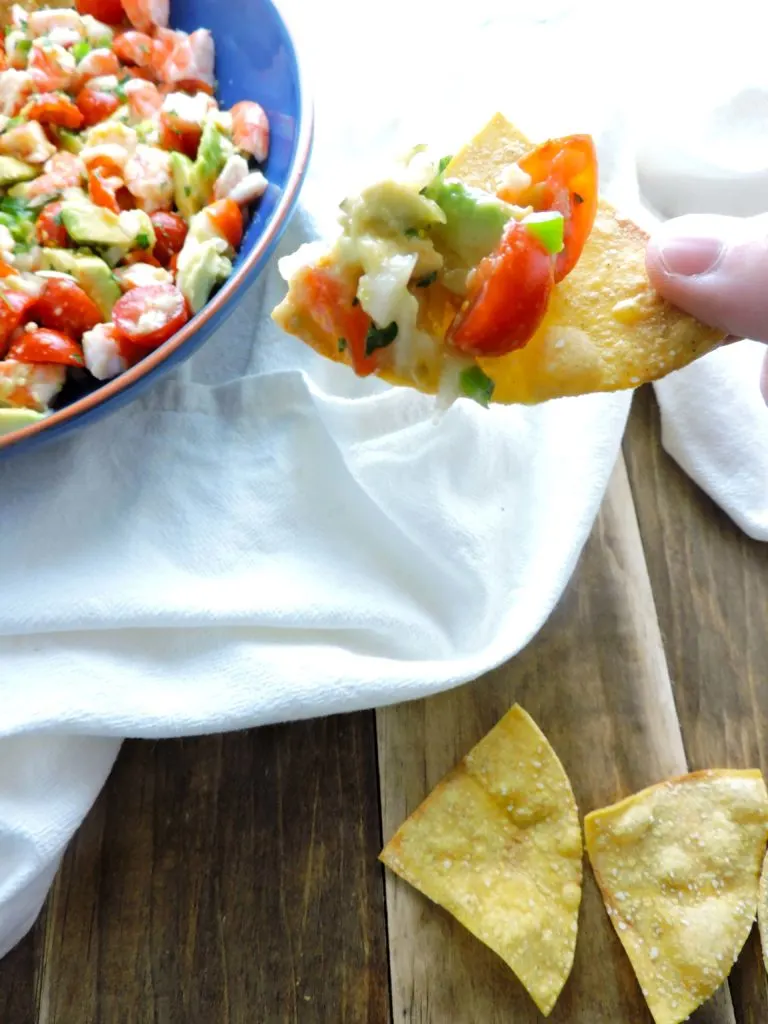 Best Chips for Ceviche
The homemade tortilla chips are super easy and very healthy. You can ditch the fried chips in favor of these sturdy baked ones. Since this is a heavier dip, so this is not the place for thin, flimsy chips.
Store bought baked tortilla chips always have a card board like taste to me. These are so easy to make and you can even make them ahead of time. Quick shrimp ceviche is the perfect dish to have in the fridge to pull out for a cool cocktail hour at your place.
You could also use mini sweet peppers or cucumbers as "chips." It is very refreshing.
PLEASE NOTE- because of the citrus juices you do not want to use a stainless steel bowl. Make sure to use a regular dish like the one shown. Citrus juices need to be used in a non-reactive bowl.
How Long can you keep Shrimp Ceviche in the fridge?
I don't recommend keeping this in the fridge more than 2 days before consuming. Seafood is always sensitive and it's just best not to take a chance. Additionally if you already have the avocado in there it will likely start to brown.
PIN IT FOR LATER!

Save
Save
Save
Save
Save
Save
Save
Save
Save
Save
Save
Save
Save
Save
Save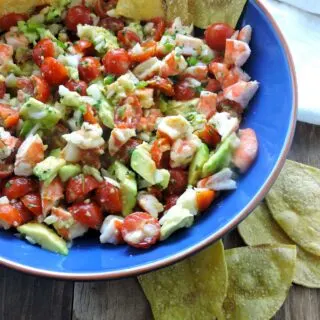 Quick Shrimp Ceviche
Quick Shrimp Ceviche is a delicious and healthy way to make ceviche without waiting for the seafood to marinate. Ceviche using cooked shrimp makes it super simple.
Ingredients
1

Pint

Cherry Tomatoes

2

Avocados, Chopped

3

cloves

garlic, minced

1/2

onion, finely chopped

Juice of 1 lemon

Juice of 1 Lime

1

Jalapeno, chopped and seeded

1

pound

cooked shrimp, chopped

1/2

cup

Parsley, chopped

1/4

cup

Cilantro, chopped

15

Corn Tortillas, cut into triangles
Instructions
You could purchase already steamed shrimp for this recipe and make it super easy. If you don't do that, simply boil some water and toss in the shrimp for about 3 minutes or until pink. You of course want to use peeled and devained shrimp.

Mix the chopped avocado, tomato, garlic, onion, parsley, cilantro, lime juice, lemon juice, and jalapeno into a large bowl. Salt to taste. When the shrimp are done, allow them to cool, then chop them and toss with the other ingredients. It's best to let this sit for about 1/2 hour to let the flavors come together.

For the tortilla chips: Spray a few sheet pans with non stick cooking spray. Cut the tortillas in triangles and lay in a single layer on each sheet. Spray the tops with cooking spray, sprinkle with salt and bake in a 400 degree oven for 7-10 minutes, turning halfway through.

Serve chips with Ceviche.
Notes
NOTE : Do not use a stainless steel bowl for preparing this recipe. The citrus will cause browning of your vegetables. A non-reactive bowl is recommended.
Nutrition
Calories:
136
kcal
Carbohydrates:
17
g
Protein:
11
g
Fat:
4
g