When we went house shopping, I admit that I was dreaming only about the kitchen. I didn't care if we had to sleep on a cot as long as the kitchen was perfect. We came pretty close, but it never fails each holiday season. I wish I had a double oven. Until the big expensive kitchen remodel can happen, I need to get creative. I am sharing all my tips with you in this week's post, appropriately titled, Meal Plan Inspiration Simple Thankgiving.
Meal Plan Inspiration Simple Thanksgiving – Turkey
Let's talk turkey. I don't have a turkey recipe on my website, but that's because I can't do better than Ina Garten's Perfect roast Turkey. It really is absolutely perfect and so easy. If you're feeding a crowd, I always recommend 2 small turkeys over one large one. Large turkeys tend to be more tough. I also prefer to separate (or have a butcher do it) the breast from the leg and thigh portions. The dark meat cooks slower than the white meat. It is very easy to have the breasts dried out before the rest of the turkey is done. If you really want fool proof, cook it in pieces and pull the breast before the dark meat.
You also want to invest in a good thermometer. Do not rely on those pop up things that come in the bird. They are not reliable and are set to cook the turkey to 180 degrees which is very over done. Remember your turkey needs to rest at least 1 hour after cooking. There is carry over cooking. Your bird will keep cooking and by the time you serve it, it has come up to a truly scorched 200 degrees or more. Cook to 165 degrees in the thickest part of the breast and thigh. Tent it with foil and allow it to carry over cook for at least 1 hour. This meat thermometer is my favorite kind. The probe stays in the turkey and you can be aware of the temp at all times. It virtually takes the guesswork out of it and let's you pull the turkey at just the right time.
Meal Plan Inspiration Simple Thanksgiving- Sides
I mean turkey is great and all, but we're here for the sides, right? I've created quite a few side dishes that are twists on old favorites. I think you'll want to add these to your table this year. I'll also give you some tips on prepping everything with one oven.
Crumble Topped Sweet Potato Casserole is filled with sweet potatoes, maple syrup, and a crispy topping you won't be able to get enough of.
Make it ahead: Go ahead and make this up to 2 days before. Just assemble everything and don't bake it. Bake it up the day of.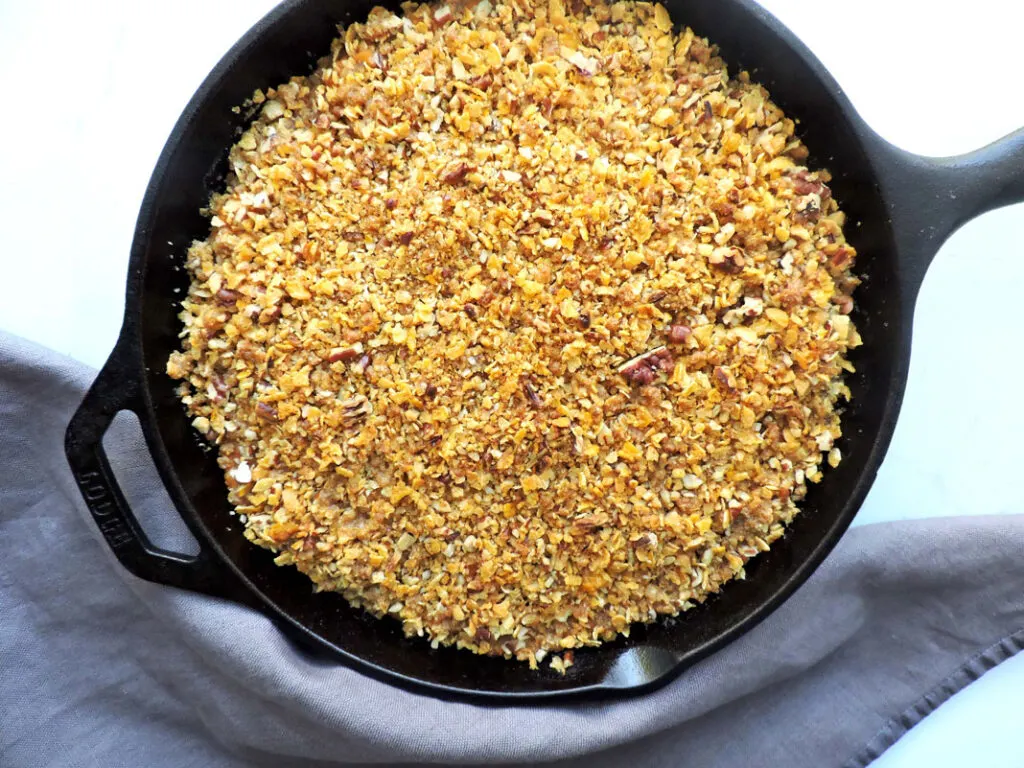 Roasted Root Vegetable Stuffing is a healthier and more colorful take on a family favorite. The added texture and flavor is sure to please.
Make it ahead: Assemble everything up to the point of baking and refrigerate up to 2 days. Bake it off the day of along with your sweet potato casserole.
This is Not Your Mama's Green Bean Casserole, but it's not without those crispy fried delicious canned onions. I made a fresh and easy mushroom sauce and replaced that cream of soup stuff. The flavor is deeper and above all fresh.
Make it Ahead: Make it up to the point of the baking step and do not add the onions and panko yet. Refrigerate and the day of add the onions and panko and put it in the oven with your sweet potatoes and stuffing to bake.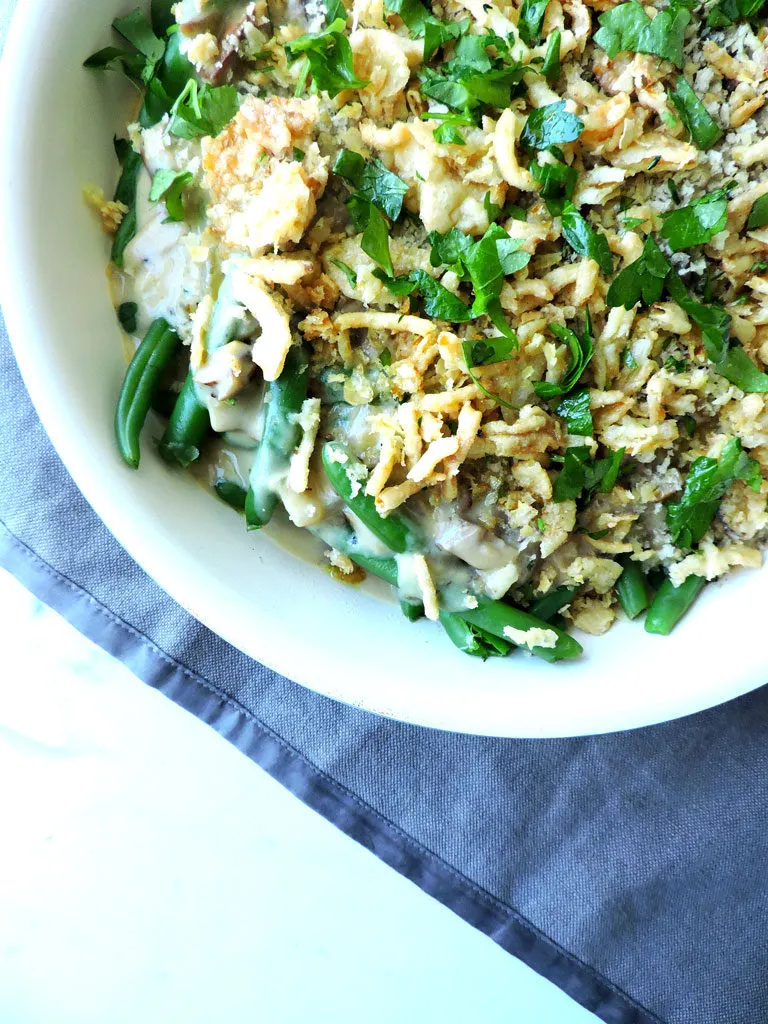 Sour Cream and Onion Mashed Potatoes are flavorful and fluffy. Don't want the onion flavor? Just omit the onion salt and you have my secret to fluffy, creamy and perfect mashed potatoes.
Make Ahead: You can't make this one ahead, but you can whip them up on the stove the day of and keep them warm and perfect until guests arrive. Just prepare the potatoes then find a pan (a roasting pan should work) that the pan the potatoes are in can set down inside of. You're going to put the pan of potatoes inside the other pan. Then fill the bottom pan with warm water and keep it over low simmering heat. You don't want to boil it. The steam will keep the potatoes from drying out and keep everything perfectly warm. Make sure you have a lid on your potatoes. Air is the enemy.
Another trick is to place them in the slow cooker on low. Just be sure to watch them and add milk if they begin to dry out.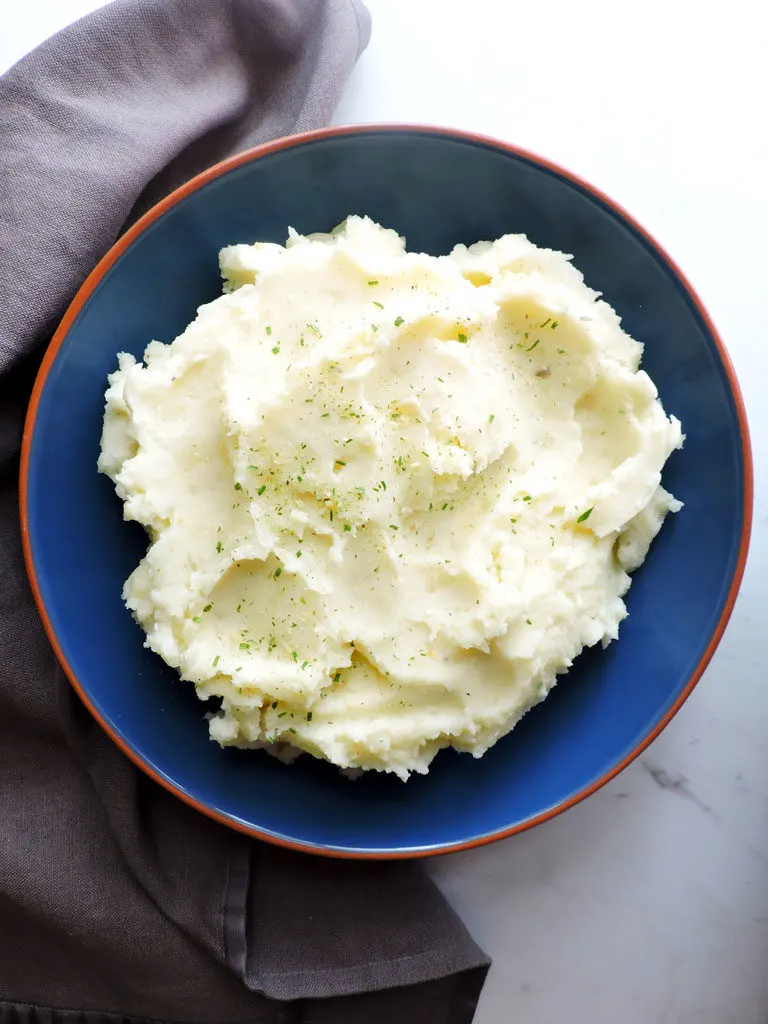 Something green on the table is never a bad thing. This Butternut Squash and Kale Salad screams fall and it's super simple to make. In fact if you're making the Roasted Root Vegetable Stuffing, you just need to roast more squash.
Make it Ahead: Go ahead and roast the squash and store it 1-2 days before. Chop the kale and prep the pepitas and store the dressing in a mason jar. The day of warm up the squash and toss it all together. Kale can handle sitting in the dressing for a while so prepare well before your guests arrive.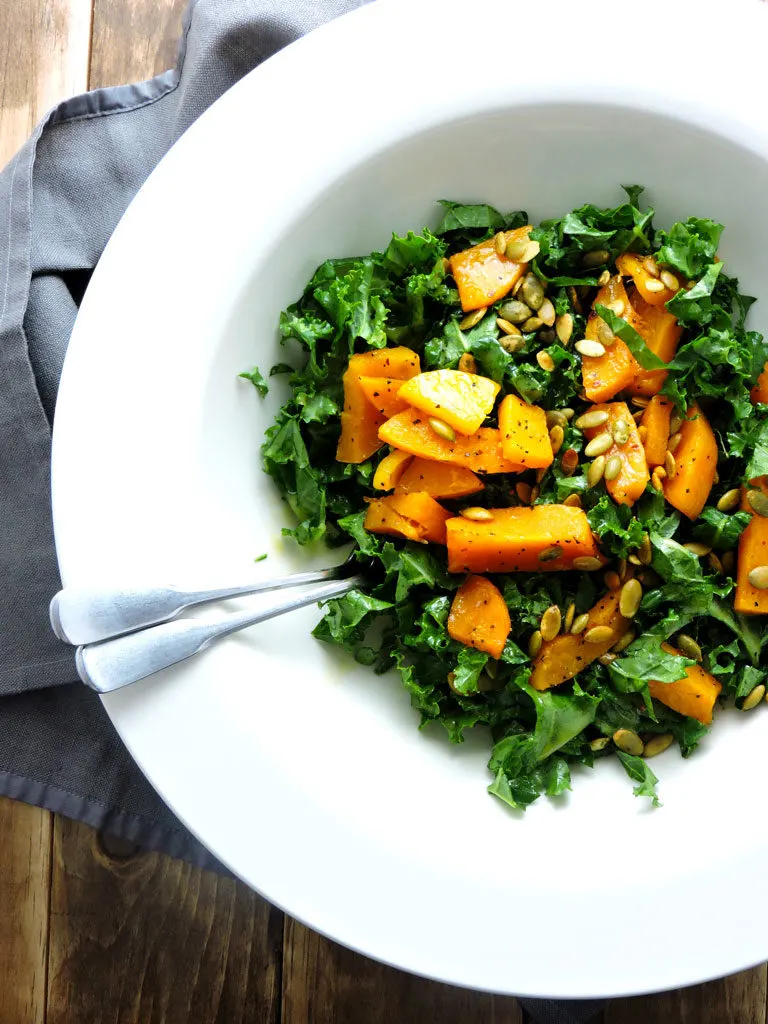 Keeping it all warm and not losing your mind. Here's a nice step by step on when to do what 😉
Don't be afraid to take offers of help. For example, I have a sister who bakes. I let her take over the sweet treats so I can focus on what I do best.
Allow the store to do some work. Almost every grocery store has a great bakery. Pick up some rolls or do a cheeseboard for appetizers. Something you don't have to cook will take the stress off.
Make sure the turkey is thawed properly. That usually means putting the turkey in the fridge to thaw 3-4 days before.
Two days before the big day prepare all that you can ahead of time and place it in the fridge. The sweet potatoes, green bean casserole and stuffing in this plan can all be prepped ahead and baked the day of.
The day of get the turkey in first! It takes the longest and you need to time to let it rest at least an hour before serving.
When the turkey is done, turn the oven to 400 degrees and cook the stuffing, sweet potatoes, and green bean casserole.
While the casserole items are baking make your potatoes. See my tip above under the potato recipe and keep the potatoes warm either in a simmering water bath on the stove or in your slow cooker.
When all the casseroles are done, if your oven has a warming drawer, get them in there. If it doesn't, you can just turn the oven down to the lowest it will go. Allow everything to sit in the oven and keep warm until it's time to serve.
Carve the turkey and make the gravy dead last. You want warm gravy that hasn't tightened up and your turkey should be rested after about 1 hour.
Here are some tips from The Spruce on absolute perfect gravy. Don't depend on just having enough pan drippings from the turkey. Be sure to stock up on plenty of Turkey or Chicken stock to rehydrate the leftovers and make your gravy. It's essential.
I know Thanksgiving prep can be overwhelming. There's really no other holiday where the food is such a main event. Relax, plan, accept help, and try to enjoy crafting a beautiful meal you wouldn't make any other day of the year.
Wishing you the very best this holiday season my friends. If you make any of these dishes this Thanksgiving, it would make my Thanksgiving to see them on Instagram! Just tag me @freshfitkitchen. I'll repost my favorites!
PIN THIS PLAN!